The Energy Commission of Nigeria has announced the application for ECN Recruitment 2023. This is a good opportunity if you have all what it takes to work in the energy industry in Nigeria.
We at RecruitDem would like to inform you that the Energy Commission of Nigeria is currently accepting applications from interested applicants. I'm pretty sure you're enthusiastic about the job opportunity.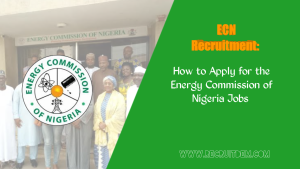 This article contains all the necessary information on how to apply for ECN Recruitment.
Moreover, we will give you more pertinent details regarding the recruitment process. You may make good use of the information in this article to submit an application that will help you be shortlisted.
What You Should Know About ECN Recruitment 2023
The Energy Commission of Nigeria (ECN) is the apex government organ responsible for the strategic planning and coordination of national policies in the field of energy in all its ramifications.
The ECN's vision is to ensure adequate, reliable, cost-effective and sustainable energy supply for the nation's economic and sociopolitical development. Its mission is to promote sustainable energy development in Nigeria through research, development, demonstration and deployment of renewable energy technologies.
Related: How to Apply for NERC Recruitment 
The ECN recruits qualified and experienced professionals to fill various positions in the organization.
The ECN recruitment website is currently open and anyone interested in applying can do so. This blog will show you everything there is to know about the recruitment and selection process. This provides guidance on how to apply and easily and properly complete the application form.
General Requirements for ECN Recruitment 2023
There are certain requirements in which you must meet before submitting an application for employment with the Energy Commission of Nigeria. This will show that you are qualified and ready to participate in the recruitment process.
The general requirements for ECN jobs are shown below. The following requirements should really be put into account by any interested candidates:
Candidates looking for employment with ECN should be knowledgeable about working in the energy industry.
Candidates can apply for this recruitment if you have a WASSCE, NECO, or GCE. They must have earned at least five credits in each of the WASSCE, NECO, and GCE exams in no more than two sittings. Credit in English is necessary.
Graduate applicants must hold a bachelor's degree in engineering or the sciences, a Higher National Diploma (HND), or an Ordinary National Diploma (OND).
Candidates should have a basic understanding of the rules and regulations governing electricity.
Candidates should have between one and five years of relevant job experience.
The ability to use computers effectively is a must for interested candidates, and this is an added benefit to stand out from the crowd.
How to Apply for the ECN Recruitment 2023
Do you want to work with the Energy Commission of Nigeria? It's now time to realize your dream of working for an energy company. This can only be realized if your application is submitted and approved.
Please follow the instructions below to apply for ECN Recruitment:
The first step is to open your browser and take a visit the official recruitment portal at nerc.gov.ng
Click on Careers when you've accessed the portal.
Alternatively you can visit the ECN web page at https://energy.gov.ng.
The following step is to select the position that best meets your qualifications.
Follow and adhere to the registration requirements.
Give all relevant details required
Click on "Submit"
Once you've successfully registered, print out your application slip.
All done! If all goes well, you'll receive an email from the Energy Commission of Nigeria. The next phase of the recruitment process will be arranged for successful candidates. Hopefully, this will result in a rewarding career with the electricity regulatory company. We wish you well and anticipate seeing your name on the shortlist of applicants.
Related: Federal Ministry of Power Recruitment 
ECN Recruitment Update 2023
I'm very sure you came to this website in search of information on how to participate in the Energy Commission of Nigeria recruitment process. This blog is periodically updated with the most latest information regarding employment opportunities at ECN.