The Nigeria Immigration Service Recruitment has made its application page for the 2023 hiring process open to interested candidates. Candidates can now apply for available job positions with the organization. Candidates who wish to apply for the Civil Defence, Correctional, Fire, and Immigration Services Board are encouraged to apply. The organisation is now accepting applications from qualified candidates for these full-time roles.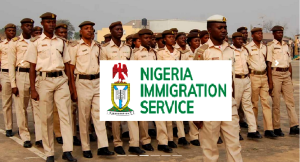 The Nigerian Immigration Service is seeking candidates to fill open positions through the recruitment process. This is a fantastic chance for those who want to start or enhance their careers in the immigration services industry.
Nigerian Immigration Service Recruitment (NIS) 2023
The Nigerian Immigration Services has formally started its application webpage for the hiring process in 2023–2024. The possibility to apply for full-time positions with the corporation is enticing for qualified applicants. Candidates should apply for these full-time employment if they match the requirements. The company is keen to find bright and committed individuals who will join their workforce and is looking to fill open positions.
NIS Available Positions and Job Requirements
The following is a list of the open positions and qualifications for the Nigerian Immigration Service Recruitment.
Category A: Superintendent Cadre
Superintendent of Immigration CONPASS 11, Professional (Doctors) — First Degree (MBBS), NYSC discharge/ Exemption certificate
Deputy Superintendent of Immigration (DSI) CONPASS 10, Professional (Pharmacists) — Bachelor's degree / Higher National Diplomas
Assistant Superintendent of Immigration (AS II) CONPASS 8 — First Degree in Pharmacy, NYSC discharge/ Exemption certificate
Category B: Inspectorate Cadre
Assistant Inspector of Immigration (AII), General Duty (CONPASS 06) — National Diploma (ND), NCE or advanced NABTEB
Category C: Assistant Cadre
Immigration Assistant III (IA III) CONPASS 03 – General Duty — GCE Ordinary level, SSCE / NECO, GCE or its equivalents
Immigration Assistant III (IA III) CONPASS 03 – Ordinary level SSCE, or its equivalents and appropriate Trade Test Certificate.
General Requirements for NIS Recruitment 2023
The general statutory prerequisites for NIS recruitment are listed below:
Candidates must be native Nigerians.
The National Identity Number is a requirement for candidates.
Candidates must hold the necessary credentials and licenses.
Applications must be complete and include a certificate of medical fitness from a government hospital that is authorized.
Candidates must have a clean criminal record and be of excellent moral character.
Candidates must be drug-free in order to be considered.
Candidates cannot be in financial embarrassment.
The age range for applicants must be between 18 and 30. Doctors and pharmacists are the only professions who are exempt from the age restriction of 35.
Male applicants must be 1.65 meters tall and female applicants must be 1.60 meters tall.
Male applicants must have a chest measurement of at least 0.87.
Candidates will have an advantage over other applicants if they are computer literate.
These are the qualifications for employment with the Nigerian Immigration Service. Please be sure that the documents you submit are valid for the post for which you are applying. Any certification or qualification that was not declared and accepted during the application process will not be recognized after the recruitment.
How to Apply for the Nigeria Immigration Service Recruitment 2023/2024
The Nigerian Immigration Services (NIS) has created its portal in preparation for the 2023–2024 recruiting drive. Every NIS application must be submitted online. Moreover, candidates are required to access the portal in order to complete and submit the application form. Please follow the instructions below to apply for the current NIS recruitment:
Browse the NIS website at https://cdcfib.career to find the most recent job posting.
Visit the "advertisement" link to view the job description.
When finished, click the "Apply" option.
Complete the application as directed.
The following step is to upload your files.
Fill complete the form, then print the acknowledgement.
It is encouraged that candidates print out the referee forms, which must be properly filled out and submitted during the screening.
All done!
Nigerian Immigration Service Recruitment Deadline 2023
Applications for the Nigerian Immigration Service opened on Monday, January 16, 2023. The registration period will finish two weeks from now, on January 30, 2023. Candidates are advised to apply as soon as possible for this recruitment process.