The Abia State SUBEB recruitment 2023 is now accepting online applications. The application for the Abia State Universal Basic Education Board is available on the recruitment website.
We will cover everything you need to know about the beginning and ending dates for the Abia State SUBEB teacher recruitment in this article. You can use the comprehensive information and instructions we've provided to help you with your application. These cover the prerequisites, qualifications, and application procedures for the hiring process.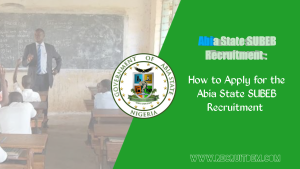 Abia State SUBEB Recruitment 2023
The Abia State Universal Basic Education Board's (SUBEB) goal is to advance a uniform, high-quality, and useful basic education throughout the state. The Abia State Government is confident that with your help, they can make the State a desirable travel destination for everyone in terms of social cohesion, economic vitality, physical functionality, and aesthetic beauty.
So why are you still waiting? You are almost there if you are confident that you possess the necessary qualifications to become a teacher. The fundamental parameters that will improve your chances of being nominated are outlined on this website.
General Requirements for the Abia SUBEB Recruitment 2023
Keep in mind the following prerequisites to be eligible for full-time work with Abia State SUBEB:
Candidates for the Abia State Universal Basic Education Board position must be citizens of Nigeria.
All candidates must possess a valid form of identification, such as a driver's license, National Identification Card, international passport, voters card, or National Identification Number, at the time of application.
Candidates should hold a birth certificate or age declaration certificate, officially signed on the certificate of state of origin.
Candidates must have completed at least five subjects in SSCE, NECO, or GCE with credits in English and mathematics.
It will be appropriate to have a B.SC., B.ED, HND, NCE, OND, or NCE certificate from a reputable university.
A minimum of National Certificate in Education (NCE) is needed for this hiring process
Candidates must be registered with Teachers Registration Council of Nigeria Certificate [TRCN]
Applications are encouraged from B.Ed., B.A. (Ed. ), B.Sc. (Ed.)/B.Tech. (Ed.) holders. Graduates must present a certificate of discharge or exemption from NYSC.
Those who are interested must possess strong interpersonal and communication abilities.
Interested candidates must display good manners and composure.
Candidates must possess strong analytical abilities and a strong sense of teamwork.
Candidates must be open to working in a new setting.
Candidates must be in good physical and mental health.
Candidates must be clear of any prior criminal charges.
Basic computer application knowledge is advantageous.
How to Apply for the Abia SUBEB Recruitment
The Abia State Government occasionally needs to employ. Visit the official recruitment website to begin an online application if you're interested in working for the Abia State Universal Basic Education Board. Please follow the instructions below to apply for Abia State SUBEB recruitment:
Visit abiastate.gov.ng to access the official recruitment website.
Simply tap on Recruitment at the top of the home page.
Fill out the free application form as directed. You must supply the following information: Full names, permanent addresses, the local government of residence, email and phone numbers, the birthdate, the state of residence, the nationality, the status of the marriage, academic credentials, the institutions attended, and the course of study
You must submit the application form once you've filled it out completely.
Do not forget to print out the registration form.
Only those who have been shortlisted will be invited to the next round of the hiring process. You will receive an email from us letting you know the day and time.
Abia SUBEB Recruitment 2023 Deadline
The Abia State Universal Basic Education Board registration deadline for 2023 is still not formally notified. Upon disclosure, we'll let you know. If you wish to be informed on the most recent updates, keep checking our website frequently.
We occasionally publish the most recent information regarding the Abia State Universal Basic Education Board hiring process. Therefore, keep checking this page frequently if you want to stay informed about the hiring process.
Moreover, we advise you to save or bookmark this page and return to it frequently. This will be useful if the authorities make any changes, and we'll let you know right away.