The Nigerian Civil Defence Salary Structure 2024 has been disclosed by the agency.
Are you interested in learning more about the pay scale and ranks of the Nigerian Civil Defence?
You will find more information on the Nigerian Security and Civil Defence Corps's ranks, pay scale, and other NSCDC-related topics in this comprehensive article. See the pay scale and benefits for Civil Defence below.
This article's goal is to give readers a general understanding of the Civil Defence pay scale and ranks. So continue reading to discover more about the NSCDC positions and their monthly wages.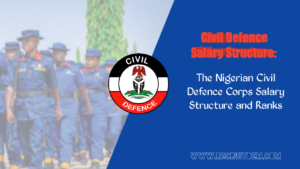 Why You Should Work with the Nigerian Civil Defence
Aside from the respect and distinction that come with serving as an NSCDC officer, there are several benefits. The Civil Defence offers an attractive pay, which attracts many people.
Online searches for correct information on the Civil Defence pay scale and benefits are common among those looking to join the NSCDC. However, finding this information online is challenging.
However, we have a rough idea of how much the commissioned officers make annually thanks to an article that was just printed in one of Nigeria's top newspapers.
The Civil Defense compensation structure is determined by the degree or qualification a person holds as well as the number of years that person has served.
Here is a view of how the ranking is done:
The person is ranked at level 12 if they are a doctor.
Level 9 is assigned to a master's degree holder.
The level at which a lawyer is situated is nine.
If the person has a degree, he is put at Level 8.
On the other hand, a person with an HND is assigned to Level 7.
Civil Defence Salary Structure 2024
So what is the monthly pay for Civil Defense? The current pay scale for the Nigeria Security and Civil Defence Corps is shown below. According to their level and annual wage range, they are ranked. They include the following.
Level 3-5 — Assistant Cadre — ₦296,506 – ₦374,259
Level 6 — Assistant Inspectorate Cadre — ₦357,385 – ₦411,454
Inspectorate Cadre, Level 7, 483,014 to 567,065
Level 8 — Assistant Superintendent Cadre II — ₦858,956 – ₦986,991
Level 9 — Assistant Superintendent Cadre I — ₦939,310 – ₦1,056,416
Level 10 — Deputy Superintendent Cadre II — ₦1,012,562 – ₦1,143,539
Level 11 — Superintendent Cadre II — ₦1,094,027 – ₦1,252,038
Level 12 — Chief Superintendent Cadre II — ₦1,158,172 – ₦1,325,234
Level 13 — Assistant Commander — ₦1,225,584 – ₦1,405,449
Level 14 — Deputy Commander — ₦1,619,447 – ₦1,825,589
Level 15 — Chief Commander ₦1,759,921 – ₦1,966,281
Level 16 — Assistant Commandant General — ₦2,272,288 – ₦2,464,560
The current Civil Defense ranks and pay scale are listed above. This material will surely be helpful to you if you want to pursue a career in the Navy. To find a job with this government organization, visit Civil Defence Recruitment.
Latest Updates on Civil Defence Salary Structure and Ranks 2024
Have you looked up the ranks and pay scale for the NSCDC Defense on Search engine? You're on the appropriate page if this is the case.
We give important details about the NSCDC ranks, the monthly pay for commissioned and non-commissioned officers, and other relevant information you might be interested in in this page.
Therefore, you can find all the information you need on this page, whether you wish to learn more about the Civil Defence's general mission or join as a member.
If you intend to pursue a job at the NSCDC, this article will specifically enable you to have a solid understanding of the Civil Defence wage structure and their ranking.
Moreover, you can apply via the official Civil Defence recruiting portal if you want to apply for the NSCDC recruitment this year.
You'll discover useful details and updates regarding the hiring procedure, qualifications, deadlines for applications, and exam dates on this webpage.
For more information, you can check on the Nigerian Civil Defence website.