The Nigerian Drug Law Enforcement Agency NDLEA Recruitment 2023 is currently accepting applications from interested applicants. Do you have any interest in this employment opportunity? This article will guide you through how to submit a good application and get a higher chance of being one of the NDLEA Shortlisted Candidates.
We'll highlight information on the Nigerian Drug Law Enforcement Agency recruitment process. This comprises the specifications, application instructions, required qualifications, and other pertinent details. There are numerous chances to join the NDLEA, regardless of your level of expertise or education.
General Requirements for NDLEA Recruitment 2023
The Nigerian Drug Law Enforcement Agency requires that candidates meet the following criteria in order to apply for this recruitment exercise:
Interested candidates must be citizens of Nigeria.
The applicant's age mustn't exceed 35 if they are interested in the NDLEA recruitment.
All candidates must be in possession of a legitimate form of identity, such as a driver's license, National Identification Card, passport, or voter card.
Applicants must be physically and intellectually healthy and be willing to work in a new environment.
Interested candidates must display good manners and composure.
Candidates must have completed the WASSCE, NECO, and General Certificate of Education with a minimum of five credits in no more than two sittings.
It is essentially necessary to have a B.Sc., HND, NCE, or OND qualification from an accredited university.
Candidates must have a properly signed Certificate of State of Origin.
Candidates having a problematic criminal history won't be considered
Candidates must not have a history of criminal activity.
Interested candidates also need to have strong interpersonal and communication skills.
Candidates applying for NDLEA recruitment jobs will have an edge if they are computer literate.
How to Apply for NDLEA Recruitment 2023
How can I submit an application for the Nigerian Drug Law Enforcement Agency, NDLEA Recruitment 2023? The NDLEA recruitment portal, located at www.ndlea.gov.ng, is where candidates interested in applying for this recruitment can do so. Follow the instructions below to apply for the NDLEA recruitment:
You must first go to www.recruitment.ndlea.gov.ng, which is the official recruitment website.
Then access Employment (Career) section of the webpage.
The next step is to sign up an account if you don't have any
The next step is to fill the free application form that is required.
Select the role that best suits you and apply for it.
Submit your application.
All done!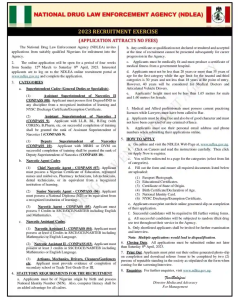 Only those who have been shortlisted will be invited to the next round of the recruitment process. There are opportunities that could change your life if you are chosen. All candidates who make the short list will undergo screening. You'll receive an email telling you the day and time of your screening.
Deadline for NDLEA Recruitment 2023
The Nigerian Drug Law Enforcement Agency has said that the application will run from March 12, 2023 to April 8, 2023 for a period of four weeks. Graduates of secondary school, polytechnic and university are invited to apply.
If you wish to be informed on the most recent updates, keep checking our website frequently. We suggest frequenting our page to be informed about the recruitment. Additionally, we advise you to save or bookmark this website and frequently refresh it in case anything changes. If there are any, we'll let you know right away.
Final Thoughts
Please take note: never pay anyone who promises to assist you land a job with the Nigerian Drug Law Enforcement Agency. The application process for this recruitment is free.
This article highlighted the important instructions on how to apply for the NDLEA Recruitment 2023. If you follow the instructions on this webpage your likelihood of being chosen for this year's recruitment process will be improved.
Please use the comment section below if you do have any concerns about the NDLEA recruitment; we will do our best to respond.