We are pleased to let you know that the Nigerian Navy DSSC recruitment portal is currently accepting online applications for the 2024 batch. The Nigerian Navy recruitment portal provides access to the application for the Direct Short Service Commission.
All the information you require on the start and end dates of this recruiting will be provided in this article. You can use the comprehensive information and instructions we've provided to help you with your application. These cover the qualifications, conditions, and hassle-free application procedures for the recruitment.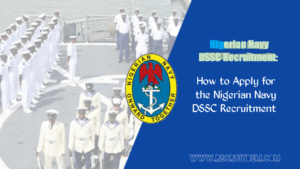 Nigerian Navy DSSC Recruitment
The Nigerian Navy Direct Short Service Commission (DSSC) is for college grads with degrees and certificates. If you are a recent graduate seeking for work or have always wanted to join the Nigerian Navy, now is your chance. Continue reading to find out more about this recruiting process.
General Requirements for Nigerian Navy DSSC Recruitment 2024
There are prerequisites that you must satisfy before submitting an application for the Nigerian Navy DSSC recruitment.
The criteria mentioned on the DSSC recruitment page for the Nigerian Navy are listed below:
Candidates must be citizens of Nigeria by birth.
Candidates must be graduates.
Candidates must have a letter of exemption from NYSC or a discharge certificate from NYSC.
Candidates must be between the ages of 18 and 30.
Candidates should not be married or even have children
All applicants must provide their O'level results (WAEC, NECO, GCE, or NABTEB). Math and English credit requirements must be met.
Candidates must have at least Second Class Upper Division for First Degree holders and Upper Credit for HND holders.
Candidates must be fully registered with their various statutory professional organisations in Nigeria, as evidenced by their certificates of registration.
Candidates must be free of any of the following issues: contagious infections, stammering, mental issues, sight, hearing, or physical disabilities. They must be in good physical and mental health.
Candidates should not have any body piercings or tattoos.
Candidates shouldn't be shorter than 1.65 meters for women and 1.69 meters for men, respectively.
Computer literacy will be an added benefit for candidates.
Candidates must not have a criminal history.
Shortlisted candidates for a qualifying aptitude exam will be those who satisfy these criteria and are chosen. We will keep giving you the details you require in order to be chosen.
Entry Qualifications for Enlistment into the Nigerian Navy DSSC
The prerequisites for joining the Nigerian Navy's DSSC program are listed below:
Account and Budgets: HND or Bachelor's degree in Accounting/Banking and Finance. Membership in a professional organization, such as ACA, ICAN, ACCA, ANAN, or ACMA, will be advantageous.
Seaman: BSc or HND in Forensic Sciences, Sociology, Nautical Sciences, Psychology, Criminology.
Chaplain: Catholic or Protestant mission with a bachelor's degree in theology.
Engineering: B.Sc. or B. Eng. degrees in either naval architecture/ship design, mechanical/marine engineering, electrical/electronic engineering, or aircraft/aeronautical engineering.
Education: B.Sc. in education or a related field. These individuals must also hold a first degree and a PGD in one of the following fields: physics, mathematics, English, history, biology, chemistry, Chinese, computer science, microbiology, biochemistry, library science (B.Sc. ), guidance and counseling, or Arabic.
Information: B.Sc. or HND in one of the following fields: journalism, print technology, mass communication, public relations, or cinematography.
Hydrography: B.Sc or HND in either Geology, Geophysics, Cartography, Physical Oceanography, and Surveying/Geoinformatics.
Human Resource Management: HND, BA, B.Sc or equivalent qualification in Public Administration, Personnel Management, Human Resources Management.
Medical: Career options include general practitioners/dental surgeons, consultants, pharmacists, dental therapists, medical lab scientists, optometrists, physiotherapists, radiographers, clinical psychologists, dieticians, general nurses/midwives, public health officers, and biomedical engineers.
How to Apply for the Nigerian Navy DSSC Recruitment 2024
Please adhere to the instructions listed below to apply for the Nigerian Navy DSSC recruitment process:
You must first go to joinnigeriannavy.com, the Nigerian Navy's registration portal.
The next step is to adhere to the guidelines on the Navy's official website.
Complete all of your scanned documents and upload them.
Print the necessary paperwork.
If you are chosen, you will receive an email to schedule the next step in the hiring process. This will ultimately lead to a fascinating career with the Nigerian Navy.
Required Documents/Materials for the Nigerian Navy Recruitment 2024
The requirements for the Nigerian Navy DSSC Recruitment 2024 are listed below:
Birth certificate or age declaration
Certificate of state of origin.
Photocopies and the original of your credentials
Educational certificates.
Six (6) colored passport photographs.
Completed Parent/Guardian Consent Form duly signed.
NYSC Discharge / Exemption certificate
Bio-Data Form
You would have a better chance of landing a position in the Nigerian Navy DSSC if you possess that set.
We occasionally post the most recent information on our portal about the Nigerian Navy recruitment drive. Therefore, keep checking this page frequently if you want to stay informed about the recruitment process.
Furthermore, we advise you to save or bookmark this page and keep checking for updates in case the authorities make any changes. We'll let you know as soon as this happens.