The NYSC Senate List 2023 is a list of all students who have been approved by their respective universities to participate in the National Youth Service Corps (NYSC) program. The list is normally issued a few weeks before each NYSC cohort begins.
It is of the utmost importance to check your name on the NYSC Senate List since it is the first step in the NYSC registration procedure. You will be unable to participate in the programme if your name is not on the list.
There are several methods for checking your name on the NYSC Senate List. You can check the list on the NYSC website or contact the NYSC office at your university.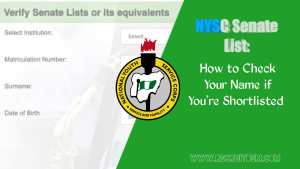 In this post, we will provide you with all the information you need about the NYSC Mobilisation list for 2023/2024; how to make it to the NYSC Senate list; and how to verify your name on the list whether you will be serving this year.
NYSC Senate List 2023
The NYSC Senate list is a list of graduates whose participation in the mandatory one-year National Youth Service Corps Programme has been authorised by the Senate of Corps Producing Institutions (CPI).
Only those who have been shortlisted are normally eligible to apply for the NYSC Programme. The NYSC Mobilisation list is another name for the NYSC SENATE list.
Prospective Corps Members (PCMs) must guarantee that their names are on the Senate academic list of their respective institutions in order to be mobilised for NYSC.
The names on the Senate list are not chosen by the NYSC board. Your school of study reserves the right to prepare and transmit the list to the NYSC, who then uploads it on their webpage for viewing.
Related: NYSC Registration and Mobilization
How to Qualify for NYSC Senate List 2023
There is normally a period set up for final year students to be checked before to their final Clearance. Graduating students are often expected to attend their school's Records Units with papers such as Course forms, School fee receipts, Admission Letters, FSLC/WAEC Results, and so on for documentation.
This is normally done to make the student eligible for their school's Senate's final year Clearance, which would subsequently win them a seat on the NYSC Mobilisation List. Any student who does not be checked before the clearance typically needs to wait until the following academic session.
Related: NYSC Registration Portal for Batch A, B & C
Make sure you finish your final year Clearance with your university by the deadline.
Register for NYSC at your school's Directorate of Students' Affairs.
Follow up on your registration by contacting your institution to confirm your name before the list is sent to NYSC.
Finally, make sure your name is on the JAMB matriculation list.
How to Check Your Name on NYSC Senate List 2023
For many Nigerian graduates, seeing your name on the NYSC Senate List is an unforgettable moment. It indicates that they are about to start on a new adventure in their lives.
If you are a Nigerian graduate preparing to begin the NYSC programme, I urge you to check your name as soon as possible on the NYSC Senate List. It is the first step on your path to a brighter and more interesting future.
Here is how to check your name:
On your mobile device, navigate to the NYSC Senate / Academic Board list site at https://portal.nysc.org.ng/nysc2/VerifySenateLists.aspx.
Choose your institution.
Please enter your matriculation number and surname as shown on the page.
You'll also notice a field for your date of birth, which you should fill out.
Finally, to view your Mobilisation status, click the 'SEARCH' option.
Related: How to Print NYSC Call-Up Letter
What to Do If Your Name Doesn't Appear on the NYSC Senate List 2023
If you've done everything above and still don't see your name on the gateway, don't freak out. Rather, contact your school to protest, and keep visiting the portal because names are not normally published all at once – they might still be in the process of uploading them, and your name will most likely be submitted later.