The Obafemi Awolowo University welcomes eligible UTME and Direct Entry applicants to submit applications for the OAU Post UTME Screening 2023.
There are many other benefits to attending OAU in addition to the fact that it is one of the top academic schools in Nigeria.
Would you like to join this prestigious institution of learning? There is a form available for the Obafemi Awolowo University Post-UTME Screening for this year's admission.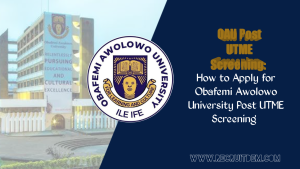 This in-depth article was necessary because many prospective students had many questions about the application process. This will allow you to know when OAU screening will begin in the academic year 2023.
Learn how to submit your OAU PUTME Screening form online by reading the rest of this article.
Eligibility Requirements for OAU Post UTME Screening
They requirements for OAU Post UTME Screening include the following:
Candidates who received UTME scores of 200 or higher are eligible to submit an OAU Post UTME application.
Candidates should also make OAU as their first choice in JAMB.
Candidates must have earned five (5) credits with a grade of "C" or above in no more than two (2) sittings, including English Language.
Candidates won't be admitted if they don't take part in the Post-UTME screening.
How to Apply for OAU Post UTME Screening 2023
The Post-UTME screening process at Obafemi Awolowo University is entirely online. Candidates who applied for Direct Entry and scored 200 or higher on the UTME and made the institution their top choice can now apply for the Post UTME screening process.
Below are the 5 steps approach to register for the process. The following procedures must be completed by applicants.
The first step is to start the application process by going to admissions.oauife.edu.ng.
The second step is to visit the website and log in using your registration number as the username and your surname as the password.
The third step is to complete the biodata form and press the next button.
Step four is to obtain an RRR (Remita Retrieval Reference) from this site only, and use it to make payment online or at any commercial bank.
The fifth step comes when your payment is approved, the system locks you out and allows you to re-login.
Candidates should be aware that NECO and WAEC, the two exam authorities, will verify all O-Level results provided upon registration.
Candidates must supply a valid result checking PIN for the purpose of verifying the results of the NECO examination.
For WAEC examination result verification, candidates must supply a valid result checking PIN and serial number.
Examination fraud and result tampering are not tolerated by OAU. False information or erroneous credentials uploaded by applicants will result in their instant disqualification.
Candidates should be aware that the screening charge is ₦2,000. Please send any questions you have about this to admissions@oauife.edu.ng or enquiry@oauife.edu.ng.
Candidates' UTME Subjects would be included in the OAU Computer-Based Screening.
That is the application procedure for the 2023 OAU Post-UTME screening exercise. However, there are a few things you should be aware of just in case. Candidates should be aware that they might occasionally run into server load issues. If this occurs, kindly wait 30 minutes before attempting once more.
OAU Post UTME Screening Date 2023
The OAU Post-Unified Tertiary Matriculation Examination (PUTME) screening exercise registration period runs from September to October. All candidates will receive notification of the screening date schedule via their personal emails and phone numbers. As a result, you are urged to register with a real phone number and email address.
Online testing will be used for OAU Post-UTME. Candidates must show up for the Post-UTME screening at the scheduled times and dates. Visit https://admissions.oauife.edu.ng for more information, and interested students should also check their dashboards on the admissions portal.